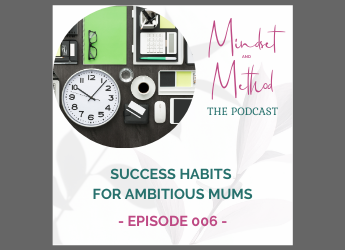 Welcome to Episode 006. - Productivity & Getting Organised - Is it all a myth?
Productivity is not how much you get done or how busy you are, it's how you prioritise your tasks and focus on the right stuff to move you forward.
On the episode, I talk about what productivity and getting organised is really about, why it often does work and what we're missing! We go through the right questions you need to ask yourself and some useful tools to help to be more productive and effectively get more done in less time.
To listen to Episode , just click below...
---
And to make sure you don't miss out on future weekly episodes, subscribe here
SUBSCRIBE ON APPLE
FOLLOW ON SPOTIFY
BEFORE YOU GO... Are you signed up to my new FREE 'Scale Up, Slow Down' 4-Day Facebook Challenge yet?
IT STARTED YESTERDAY, BUT IT'S NOT TOO LATE TO CATCH UP!
Would you love to learn the mindset and method to double your income and halve the time you work on your business?
Do you want to run a business you love but still have the time to dedicate to your kids (and yourself)?
If so, join me for my new FREE Challenge - HAPPENING RIGHT NOW - sign up by clicking below
REGISTER NOW