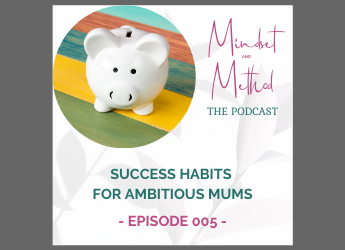 Welcome to Episode 005. - When Is The 'Right' Time To Invest - The Psychology!
When you're starting a business - or not earning what you want from your business - taking the decision to invest in yourself can be tricky.
When should you do it? How much should you put aside? Should you take it from your savings or wait until you can take it out of the business?
So much can hold you back!
On the episode, I chat about the vicious circle we can get ourselves in - feeling like we shouldn't invest in our business, because we're not making much (any?) money yet - but then not making money because we're not investing! I talk about the psychology behind investing in yourself - and your business - and what starts to happen when we go 'all in'!
To listen to Episode 5, just click below...
---
And to make sure you don't miss out on future weekly episodes, subscribe here
SUBSCRIBE ON APPLE
FOLLOW ON SPOTIFY
BEFORE YOU GO... Are you signed up to my new FREE 'Scale Up, Slow Down' 4-Day Facebook Challenge yet?
IT STARTS NEXT WEEK!
Would you love to learn the mindset and method to double your income and halve the time you work on your business?
Do you want to run a business you love but still have the time to dedicate to your kids (and yourself)?
If so, join me for my new FREE Challenge - we start on the 9th November 2020 - sign up NOW by clicking below
REGISTER NOW