The ONLY 'collaborative-coaching' Business Growth Programme for ambitious female entrepreneurs ready to scale their online business to the next level...
...but who feel like they don't have the confidence, self-belief, plan or tools to really go for it alone!
Enrollment is by Application Only
BOOK A CHAT

BOOK A CHAT
Have you been in business for a while but feel like...
You have all the 'things' you've been told you need - the audience, a great offer, a freebie lead magnet...

And you've tried all the tricks - the launches, the constant content creation, getting into people's dm's...
...but you just can't seem to take your business to the next level?
Maybe you've made some money, but you're burnt out - and feel like there must be an easier, more enjoyable, way to grow your business - so you can fall back in love with what you do.
Or maybe you are awesome at what you do but hate all the marketing and sales - and just can't fit the pieces together to make the leads flow and the money you want.
You fall asleep confused about why you're feeling so stuck - and wake up feeling fed up with all the hard work that doesn't seem to be getting you any further forward...
...and you just keep hoping for that one solution that will finally fit all the pieces together for you.
You know you can't do it like this for much longer - something needs to change...
...it's now or never...
...but you just don't know which direction to choose - what to change - or how to start!
If this is you - the Altitude Programme will give you...
The mindset, confidence and self-belief to really go 'all in' on yourself, dream big and develop the motivation to make it happen

The business strategy and business plan to map out your long term and short term goals, culminating in a fully outlined business strategy and a 12-week business plan

1-2-1 and group coaching from the Award-Winning Mindset Coach and Business Strategist, Jenni Donato, and her team of Business Growth Experts to help you move forward with implementation support, every step of the way.
Enrollment is by Application Only
BOOK A CHAT
So, how exactly does it work?
Great Question, here's how the Programme works and what you get...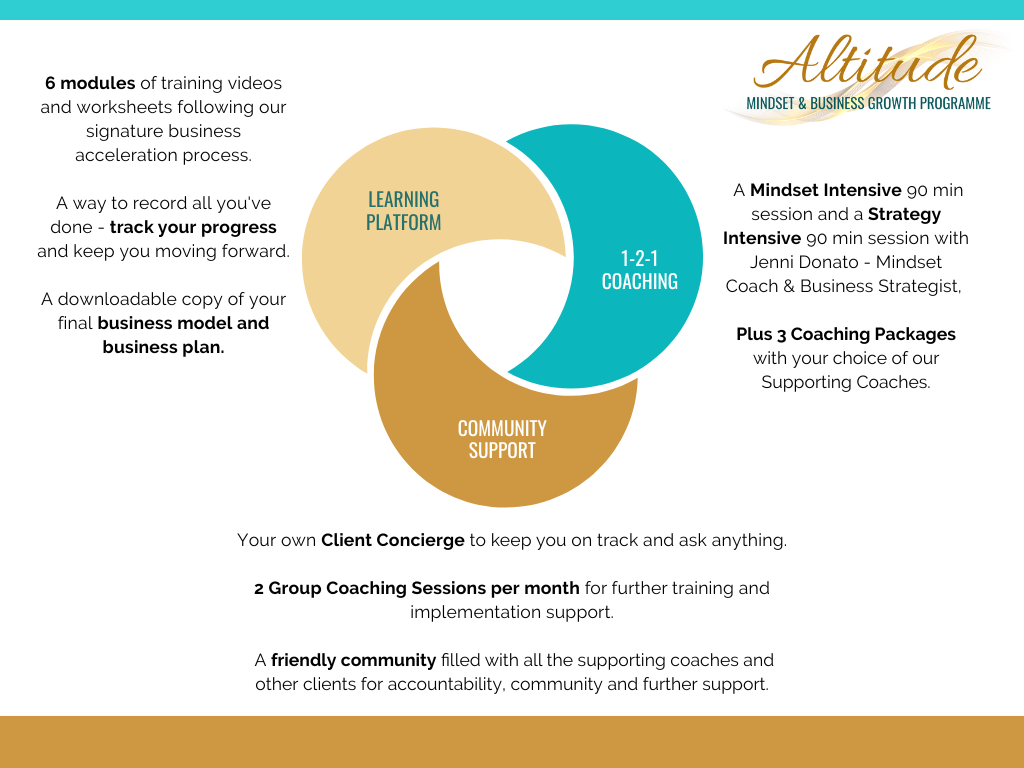 BOOK A CHAT