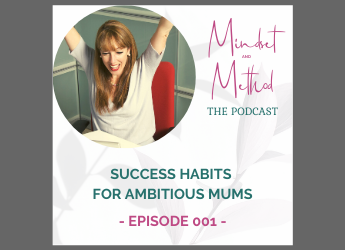 Welcome to Episode 001. - Success Habits to Earn More From Doing What You Love, In Less Time!
Todays Episode gives you an Introduction to the 'Success Habits' you need to know being a busy mum, juggling a family and a business.
I'm going to dive into the three key areas which all successful people understand, why you need to know about them and how to implement them into your life so you can:
Get your vision, understand your why and build the motivation you need to grow a successful business despite the daily chaos which comes with being a mum

Get back into control of your self care, make yourself a priority and get that all important 'you' time back so you can start to enjoy your journey

Build the courage to push your comfort zone to achieve bigger and better things in less time and develop the resilience to bounce back when things don't go to plan
To listen to Episode 1, click below...
---
And to make sure you don't miss out on the future weekly episodes, make sure you subscribe here
SUBSCRIBE ON APPLE
FOLLOW ON SPOTIFY
COMPETITION TIME - And don't forget about my BIG PRIZE GIVEAWAY!
All you need to do is:
Subscribe (use the link below to subscribe if you're not already),
Leave a 5* review if you've liked the Podcast
Share the podcast on social media (make sure you tag me, Facebook - Jenni Donato and Instagram - @jennidonato)
If you do this before Tuesday 3rd November 2020, you will be in for a chance of winning one of 3 amazing prizes - 3 FREE MONTHS INSIDE MY MONTHLY MEMBERSHIP - THE SPARKLE SALON
SUBSCRIBE NOW
And before you go, my new FREE download 'Millionaire Habits every business mum needs to know!' is now available...
Have you ever wondered how 'successful' people got that way?
Would you love to know their secrets?
If so, download this FREE guide which will give you the 6 Millionaire Habits every business mum needs to know to scale your business, earn more from working less and get your time back!
To download you copy, just click below
YES I WANT A COPY