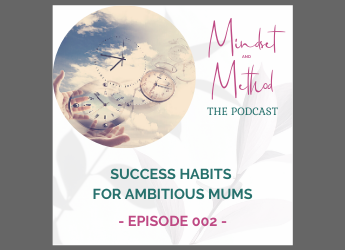 Welcome to Episode 002. - The Illusion of Time - And How To Get More...
Have you ever found yourself muttering 'I know I could really make a go of this, if only I had the time!'
If so, this episode is for you!
In it, I tell you all about the 'Illusion of Time' and explain some common limiting beliefs around time which could be holding you back.
To listen to Episode 2, just click below...
---
And to make sure you don't miss out on the future weekly episodes, make sure you subscribe here
SUBSCRIBE ON APPLE
FOLLOW ON SPOTIFY
COMPETITION TIME - And don't forget about my BIG PRIZE GIVEAWAY!
All you need to do is:
Subscribe (use the link below to subscribe if you're not already),
Leave a 5* review if you've liked the Podcast
Share the podcast on social media (make sure you tag me, Facebook - Jenni Donato and Instagram - @jennidonato)
If you do this before Tuesday 3rd November 2020, you will be in for a chance of winning one of 3 amazing prizes - 3 FREE MONTHS INSIDE MY MONTHLY MEMBERSHIP - THE SPARKLE SALON
SUBSCRIBE NOW
Also, are you signed up to my new FREE 'Scale Up, Slow Down' 4-Day Facebook Challenge yet...
Would you love to learn the mindset and method to double your income and halve the time you work on your business?
Do you want to run a business you love but still have the time to dedicate to your kids (and yourself)?
If so, join me for my new FREE Challenge - we start on the 9th November 2020 - sign up NOW by clicking below
REGISTER NOW