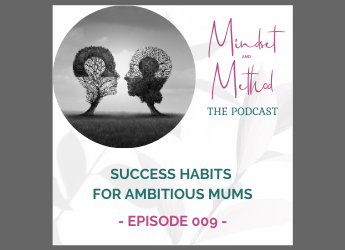 Welcome to Episode 009. My 3 Big Psychology Secrets For Success
If you've tried it all, used all the tactics and copied all the 'secrets' but you're still not getting the consistent income you want from your business, this episode might tell you why!
You've probably heard snippets of my simple psychology before, but this is the episode where I pull together my 3 biggest psychology secrets, all in one place and tell you how to use the power of mindset to get the consistent income you want, and your time back for you - you know, the way you thought it would be when you set it all up in the first place.
I also tell you all about my transformational 3-month programme The Mind Spa, and a special festive surprise offering - for a limited time only!
To listen to Episode , just click below...
---
And to make sure you don't miss out on future weekly episodes, subscribe here
SUBSCRIBE ON APPLE
FOLLOW ON SPOTIFY
And if you're interested in getting your hands on all the content for my 3-month programme The Mind Spa, at a fraction of the price, here's where you can find all the juicy details about my new Festive offering - The Mind Spa Lite
The Mind Spa will help you to:
Master Your Mindset - learn the simply psychology to get your mind working for you - rather than against you - to set your big money goals and design your own 3-month plan to get you there

Love Your Business - rediscover your passion for what you do or design your dream business from the starting blocks - to align your business to your strengths and streamline your processes so your business works for you.

Get Your Time Back - Learn the mindset and productivity secrets to achieve your goals with time to spare - to do with as you wish.
For more details - click below
THE MIND SPA - LITE