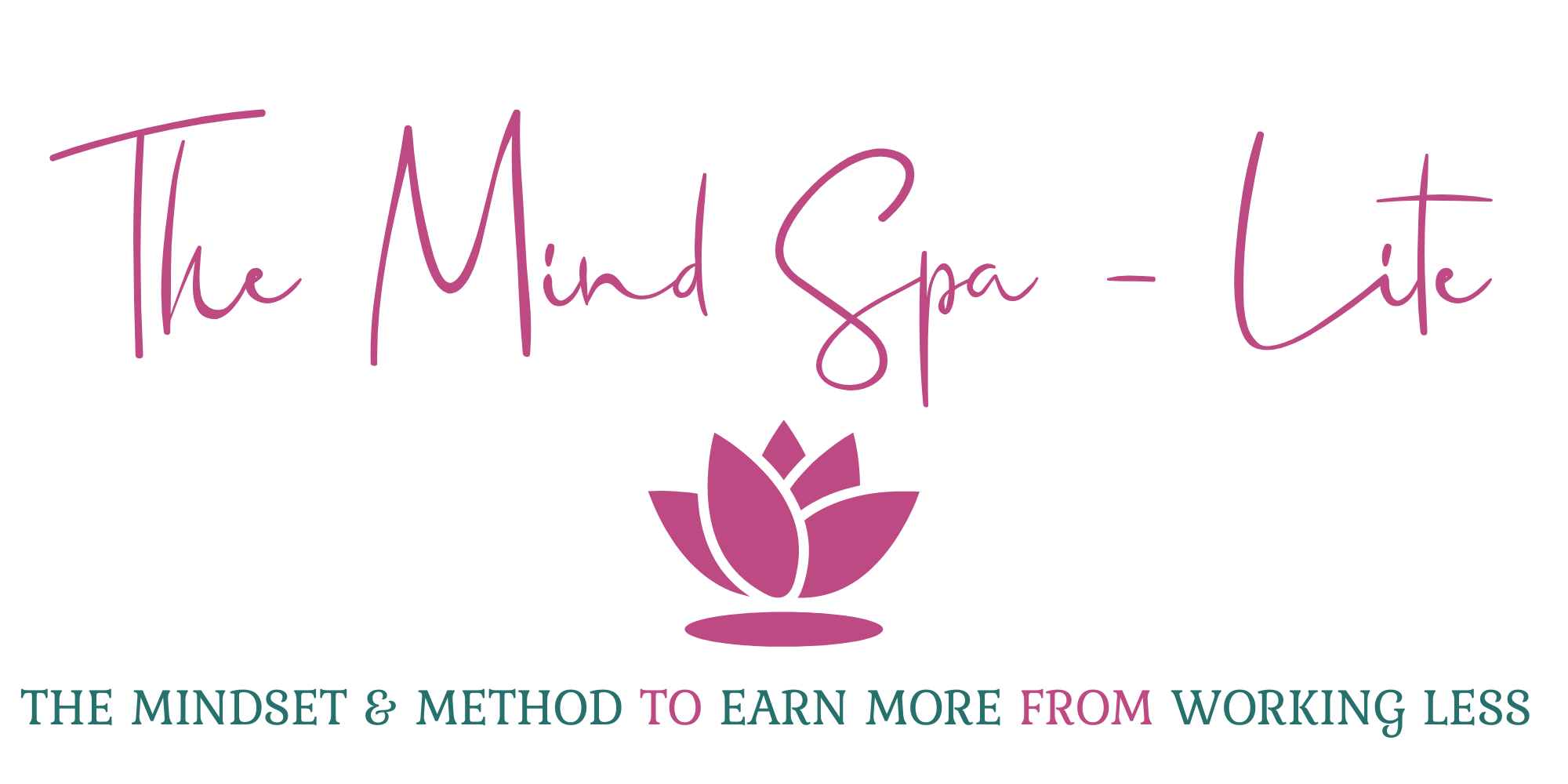 Hey busy mum...
...did you set up a business because you wanted the flexibility to work when you like, earn what you want & be there for your kids?
Has it worked out that way?
If you answered no, you need The Mind Spa - my transformational 3-month programme which will give you the Mindset & Method to take your business to the next level and earn more by actually working less...
...you know, the way you thought it would be when you set it all up!
---
AND NOW, for a limited time only, The Mind Spa is available in a Do-It-Yourself Package so it's flexible, super affordable and you have no time limit to complete it!

---

WHAT'S MORE, if you jump in now I'm offering 3 free months inside my membership The Sparkle Salon, to give you access to free support and encouragement to get the most from your spa experience

---

Want to know more? The Mind Spa will help you to:

Master Your Mindset - learn the simply psychology to get your mind working for you - rather than against you - to set your big money goals and design your own 3-month plan to get you there

Love Your Business - rediscover your passion for what you do or design your dream business from the starting blocks - to align your business to your strengths and streamline your processes so your business works for you.

Get Your Time Back - Learn the mindset and productivity secrets to achieve your goals with time to spare - to do with as you wish.

Interested? Let's hop on a 20 min chat to check it's right for you and to get you enrolled...

---
---
Still wondering if it a good move?
The Mind Spa is right for you if:
you are struggling to make a consistent income from doing what you love (or you want to set up a business of your own but don't know where to start!)

you are working all hours because you have the ambition, but feel like you're missing the final piece of the puzzle to make it a success

you feel like you're missing out on time for your kids - or time for you - because your business takes up so much of your energy

you feel like you lack the clarity and confidence to really level up your game to attract consistent sales/leads and make it all worth your time

you'd love back-door access, free for 3 months, to my online monthly membership The Sparkle Salon, to get support throughout your spa experience.
---
The Mind Spa is NOT right for you if:
you are already making the money you want - consistently - from doing what you love

your processes are streamlined & automated, you enjoy all elements of your business and you find it easy to attract new customers or clients

you have a great life-balance where you work when you want, enjoy your family and have enough time for your own hobbies and down-time

you thrive on new challenges and enjoy the rollercoaster ride of juggling a growing business and being an awesome mum
---
---
Real Life Results of The Mind Spa
To watch a quick video of how Lucy changed her life from her time in The Mind Spa, click the button below...
WATCH LUCY'S STORY NOW
"I learnt SO much during The Mind Spa! After the programme my life is now much more balanced for sure. I prioritise things that align with my goals for the future, and don't spend too much time or energy on things that don't or are unrelated. Breaking down big goals into smaller periods of time sounds like such an obvious thing to do, but being part of The Mind Spa gave me more accountability to take this seriously. I've taken some really big actions and made positive progress in all areas of my life - business, family & self care!" (Sarah, Jan 2020)
"Working with Jenni has been hugely beneficial for my personal and professional life. I have such self-belief and a greater sense of knowing who I am now; as a Mum, a Woman and a Business Owner. The simple but fundamental psychological tools we use have shifted my perspective and I'm now focused on such a positive future, much less affected by potential challenges that arise. I'm kind of blown away and so so grateful for how much it's helped." (Lucy, April 2020)
---
---
"Enlightening, beautiful and seriously helpful. Worth Every Penny!"
"A real game-changer, and fits so easily around busy working mum life!"
---