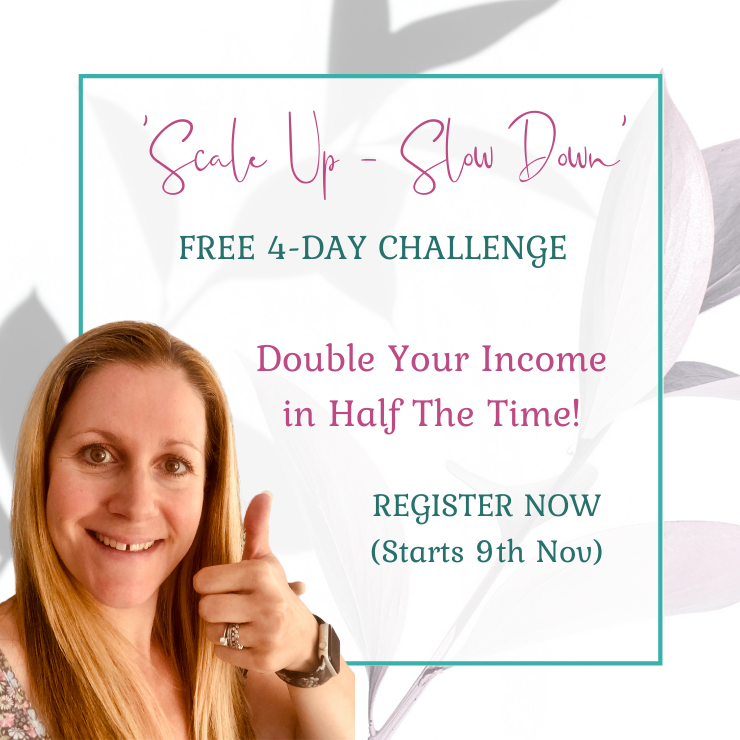 Would you love to learn the mindset and method to double your income and halve the time you work on your business?
Do you want to run a business you love but still have the time to dedicate to your kids (and yourself)?
If so, join me for my new FREE Challenge - we start on the 9th November 2020 - sign up NOW by clicking below
REGISTER NOW =>
This free challenge is for you if you are:
frustrated by working so hard - and juggling your biz and family - but not seeing the money you want from your business?
confused about how you can grow your business without upping your hours, so you can finally enjoy what you do AND make the income you want?
craving more time to switch off and be with the family - or just by yourself - without the constant 'business brain' haze of wondering whether you're doing the right thing - or if it's all a waste of time?
Well, listen up, running a business and being a mum can conflict and before you know it you can end up:
juggling so many balls you start hating the 'game', confused on how to make your business take off and questioning whether you can actually do it.
checking your bank balance and thinking 'what am I doing wrong, I work so hard'
pondering the question 'Why can't I just find the missing piece of the puzzle which will make this all work?'
Then you end up thinking 'Is this even worth it?'
BUT IT DOESN'T HAVE TO BE LIKE THIS
So, what can you do?
Well, if you love what you do and you really want to make a go of it, there is a way to:
design the plan to skyrocket your business and make the income you want
get the mindset to push yourself out of your comfort zone and reach for the potential you never knew was there
create the focus, motivation, strategy and schedule for you to DOUBLE YOUR INCOME BY WORKING HALF THE TIME - to finally get that business - and life balance - you set it all up for in the first place!
And I'm going to show you how in my FREE 'Scale Up, Slow Down' 4-Day Challenge...
REGISTER NOW =>
But, who am I?
I am Jenni Donato, a UK mum of 2 and an Award-Winning Mindset & Success Coach, specifically for mums-in-business who want to grow their business, earn a consistent income from doing what they love - and get their time back.
I'm the host of a growing Facebook Community - 'More to Me than Mum' - with over 1000 members, all growing their businesses while juggling family life.
The host of a new podcast 'Mindset and Method' which shot to No.10 in the Apple Entrepreneurship Charts within 2 days of launching.
And I'm also the creator of a transformational 3-month programme for busy mums 'The Mind Spa', and a public speaker with an obsession with Success Psychology and the high performance habits of the rich and super successful - and using what we can learn from them to help my clients level up, earn more and work less!
So, if you'd love to join me for my new free challenge, just click the button below to register and I'll see you inside...
Jenni x
REGISTER NOW =>